Saffron Cup Bombay Masala Black Tea | 40 gm | 20 Tea Bags | Blended With Ginger, Cardamon, Cinnamon, Cloves & Black Pepper | Masala Chai | 100% Natural Teas
Rs. 245.00
Rs. 299.00
Black tea with Spices -- About Bombay Chai: Bombay Chai is an aesthetic tea blend that reminds you of the flavors of chai from the streets of Mumbai. A delightful cup of Bombay Chai is a blend of bold Assam whole leaf Black tea and spices like ginger, cardamom, cinnamon, pepper, clove, nutmeg, etc. The flavorful and aromatic spices bring to you the native taste of the aesthetic cutting chai of Mumbai. A cup of this tea is bound to evoke your taste buds with vigorous energy and warmth. Tasting Notes: Strong, crisp notes. The sweetness of cardamom balances the spicy aftertaste of ginger and pepper. Appearance: Whole leaf tea blended with authentic Indian spices. Bright, red infusion without adding milk and golden brown with milk on brewing. Aroma: Strong and distinct aroma of traditional masala chai. Benefits: Rich in antioxidants and helps in fighting several common diseases Builds Immunity Improves Digestion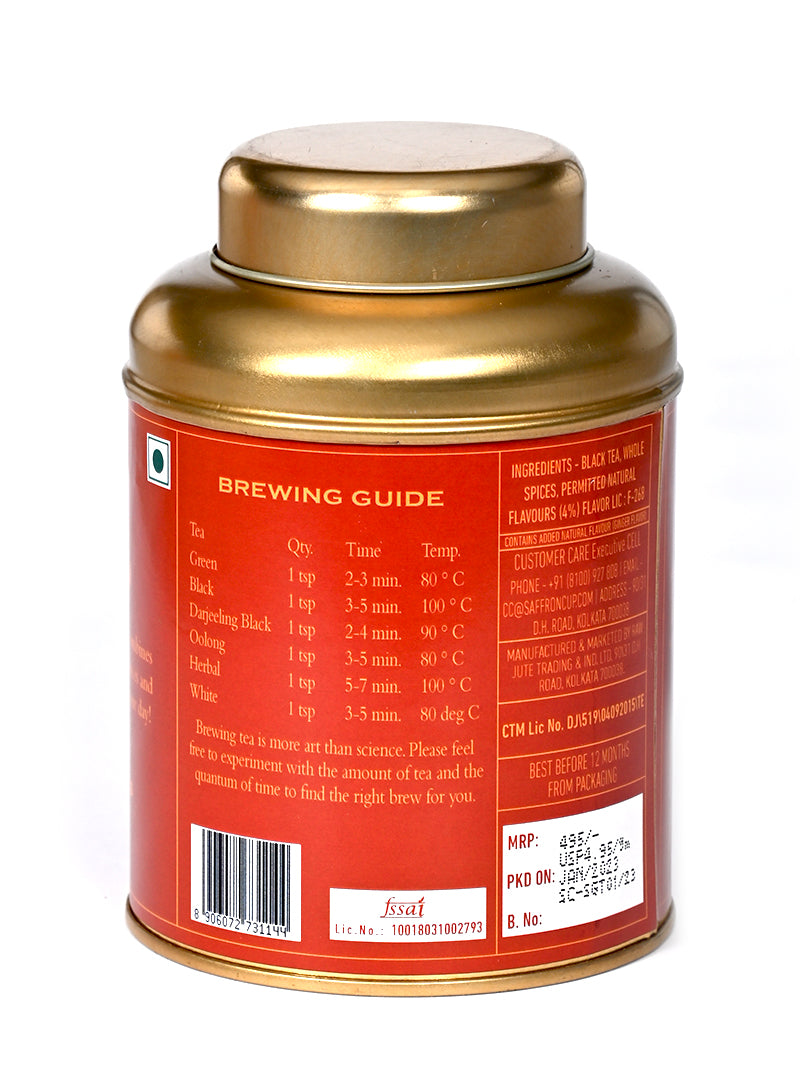 Saffron Cup Bombay Masala Black Tea | Loose Tea 100 gm | 50 Cups | Masala Chai | 100% Natural Teas
Rs. 349.00
Rs. 399.00
Black tea with Spices A delightful ensemble of a bold Assam whole leaf tea and a myriad of spices that provide a complex, spicy flavor with a sweet finish. Bombay Chai is an authentic tea blend from the streets of Mumbai. The flavorful and aromatic spices bring to you the native taste of the aesthetic cutting chai of Mumbai. A cup of this tea is bound to evoke your taste buds with vigorous energy and warmth. For a richer taste, add milk and sugar, and enjoy your cup of Bombay Chai- ideal for any mood and gives you a comforting taste in every sip. The added spices help in strengthening the immune system.
Authentic Indian Kadak Masala Chai- 200g pouch
Rs. 259.00
Rs. 299.00
KADAK MASALA CHAI Fuel your morning with a bold cup of Indian Masala Chai- Assam Black Tea with natural spices. Start your day with Kadak Masala Chai. Here to give your everyday morning tea an upgrade. Spices in Ayurveda have been considered a cure for almost every health-related problem. Every household has a diverse way of making the famous masala chai. So is ours. We bring to you the bold flavors of Assam CTC Black Tea blended with the power of spices like ginger, clove, cardamom, black pepper, and cinnamon. The dried spices along with milk and sugar deliver a  strong and rich cup of chai comforts and energize the senses every time. HEALTH BENEFITS:  Cardamom has been used as a digestive aid for its antioxidant properties. Ginger is well known for its anti-inflammatory properties and improves the immune system. Cinnamon is very useful in weight loss. Black pepper provides relief from sinusitis, nasal congestion, and asthma.